Affordable And Quality Higher Education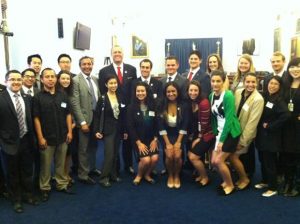 Higher Education Caucus

View Photos
A former Mother Lode Congressman has helped form a caucus designed to advocate for quality and affordable college education.
The new Caucus was created by Republican Congressman Jeff Denham and Democratic Congressman Ami Bera. It will consist of 31 members of California's Congressional delegation.
"The California Public Higher Education Caucus will focus on how we can preserve the promise of higher education in California," said Congressman Denham. "As a proud alumnus of Cal Poly San Luis Obispo, I know that our state has a network of universities and colleges that are among the best in the world and at the forefront of research and innovation that will improve our lives and the economy.  We must work together to preserve key opportunities for the next generation of students.
A recent report from the Center on Budget and Policy Priorities says California has cut its spending by $1,373 per student since 2008, adjusting for inflation. The caucus was formed at the request of some college students.
"The University of California is proud to support the California Public Higher Education Caucus and would like to thank Congressmen Ami Bera and Jeff Denham for their leadership in creating and co-chairing this important bipartisan congressional caucus," said UC President Janet Napolitano. "I applaud our students for coming together and working with the congressional offices and the California State University to encourage the creation of this caucus."
The caucus states its goal is to ensure that students are not priced out of the opportunity to realize their full potential.