Tioga Pass Will Open Friday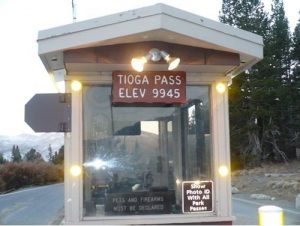 Tioga Pass Entrance

View Photos
Yosemite, CA — Tioga Pass will open for the season tomorrow at noon.
Highway 120 Tioga Pass is a popular destination for high country tourists over the summer months. Yosemite Ranger Scott Gediman says, "On one hand it's been a real dry year, our third in a row, so it's difficult as far as snow pack goes. But one of the benefits is us being able to get the roads open earlier."
There will be limited visitor services over the next few weeks. All campgrounds along Tioga Pass are currently closed, and commercial services like the gas station and store are also closed. There are vault toilets set up in certain locations.
Visitors are encouraged to prepare for icy conditions, especially during the morning hours. There will also be some dangerous stream crossings for hikers early in the season.