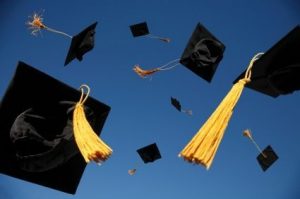 Graduation Caps

View Photos
Columbia, CA — 195 students will throw their caps to the wind this Friday at Columbia College's 45th Commencement.  The graduation will be held at 6:30 p.m. in the Oak Pavilion.
Here are the graduating numbers:
99 Associate of Arts Degrees
8 Associate of Arts Transfer Degrees
93 Associate of Science Degrees
16 Associate of Science (Occupational Education) Degrees
63 Certificates of Achievement
Twenty-five will graduate with distinction having grade point averages of 3.75 or better. Another 27 will graduate with honors having between 3.5 and 3.74 grade point averages.
Columbia College President Dr. Angela Fairchilds will introduce members of the class of 2014 at the commencement.