Hot Weather And Classic Cars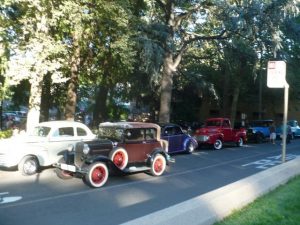 Classic Cars

View Photos
Hot weather has arrived and thoughts are beginning to turn towards outdoor activities.
Terry Costa, Murphys-Angels Camp Lions Club Car Show Chairman, was Thursday's KVML "Newsmaker of the Day".
The Murphys-Angels Lions Club is a non-profit organization that gives all it's money from various events to charities in the community.
One of the monthly on-going events through September is  "Classic Car Cruise Nights".
These are held every third Thursday of the month at the Murphy's Historic Hotel in downtown Murphys. Cruise Nights run from 5 PM through 8:30 PM and features DJ oldies music, food and raffles.
An all-day family classic car event will take place towards the end of June. The 7th Annual Car Show is Saturday June 28th from 9 AM through 3 PM at Utica Park in Angels Camp.
This event features 135 classic cars, food, vendors, refreshments, plaques and awards.
If you would like to display your classic car, call Costa at (209) 728-9971.
The "Newsmaker of the Day" is heard every weekday morning at 6:45, 7:45 and 8:45 AM on AM 1450 KVML.