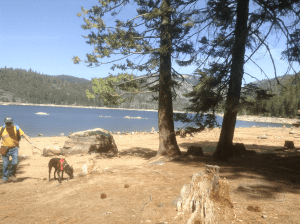 Pinecrest Lake water levels

View Photos
Sonora, CA — You will have a chance to get your drought questions answered.  The first of several drought forums is scheduled for this week. The Tuolumne County Office of Emergency Services has organized the series of community water forums, which run through May.
Some of the agencies featured at the different forums include Tuolumne Utilities District (T.U.D.), Twain Harte Community Services District, Tuolumne County Environmental Health, and some fire officials.
This Wednesday, April 30, will be the first chance for residents to ask questions related to Tuolumne County's water woes.  The forum will be held at the Sonora City Opera Hall from 6:30pm-8:00pm. There will be an introduction by City of Sonora Administrator Tim Miller, and District One Supervisor Sherri Brennan will moderate the event.
T.U.D Spokesperson Lisa Westbrook says, "What we're trying to do is really educate the public on the current water supply. To give them information on wells, there have been a lot of questions about people with ground water who are concerned about their wells. Also, with the hot summer season coming, we really want people to get their property ready and that's why we're going to be having some fire officials there as well."
T.U.D. is the county's largest water provider, but there are technically 138 water districts in the county, which are all regulated by the California Department of Public Health.
Here are the other forum dates:
May 6 at the Twain Harte School Gym
May 12 at the Soulsbyville School Gym
May 28 at the Columbia Elementary School Cafeteria
All of the forums will run from 6:30pm – 8pm.
T.U.D. reports Tuolumne County is currently categorized as "D3 Extreme Drought" as shown in the map to the left.