Cigarette Causes building Fire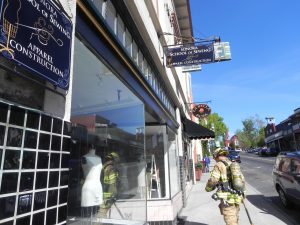 Washington Street Closed Fire at Sonora School of Sewing Photo by Sabrina Ambler

View Photos
Sonora, CA — Fire Officials blame a cigarette for igniting a fire at a downtown Sonora building.  The flames broke out around 9:45 this morning at the Sonora School of Sewing on north Washington Street.
"I just opened the doors and the whole building was full of smoke," says Megan Houseberg a school instructor, "I started running around and I didn't see any fire from the inside so I came outside and started looking around the building and noticed there was smoke coming out of the cellar."
Houseberg explains she went back into the building to check out the basement and that is when a volunteer firefighter from Columbia rushed into the building and helped put the fire out.  Moments later, a Sonora Fire Department engine arrived on scene as smoke was pouring out of the sidewalk grate next to the building.
Sonora Fire Chief Mike Barrows says, "It appears that somebody flipped a cigarette butt down that grate and it got wood down there burning.  There was no extension into the structure. The wood was isolated between the concrete surround on the vent.  They had just put a wood floor in it to keep debris from going down into the basement.  That little wood floor is what started burning."
North Washington Street was shut down for a short time.  Barrows warns: Never flick a cigarette into grates in the city, as many vents are for the basements of buildings.