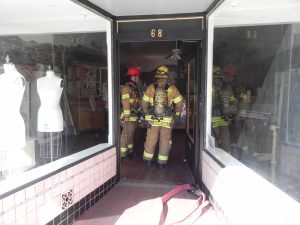 Washington Street Closed Fire at Sonora School of Sewing Photo by Sabrina Ambler

View Photos
Sonora, CA — Officials are investigating a fire at a downtown business.
The fire at the Sonora School of Sewing started at around 9:30am. An instructor in the building, Megan Houseberg, stated that the fire is believed to have originated in a vent that connects to the basement. She believes that a cigarette may have been thrown inside the vent.
The Sonora PD briefly closed down Washington Street near the fire, but it is now back open. The fire has been contained. We'll pass along more information as it comes into the news center.