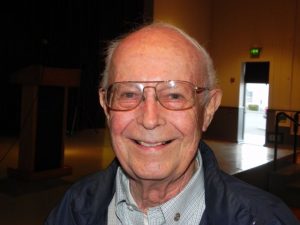 Ron Stearn

View Photos
Sonora, CA — Ron Stearn has now served 50 years on the Sonora City Council.
Stearn was sworn in to the office in April of 1964 after being encouraged to run for the seat by the Sonora Merchants Association. "They talked me into running to get more parking downtown, and since that time, we've built 500 some spaces," says Stearn.
Stearn spent 47 years working at the Mundorf's hardware store on South Washington Street. The business closed in 1995 and is now the location of the Creative Learning store.
Stearn says much has changed since when he first took the oath. "There were four grocery stores on the main street, and I think there were nine hard liquor bars in those days, and only three highway patrolman," he laughs.  "Little by little things changed here and there."
Stearn says he is not happy with the way California State government has evolved over the past 50 years, and feels it has had a negative impact on City government. "Back then the State of California wasn't in our face all the time, trying to regionalize everything, and doing the thinking for us," he says.  "All we had to worry about was having a good police force, good fire department, half-way clean streets, and decent sidewalks."
The need for more parking in downtown Sonora is what got Stearn into politics 50 years ago, and he says it remains a top priority for him today.  "This Vision (Sonora) plan that they want to put in is going to take out about 13 parking spaces, to start with, and that makes me unhappy," he says. "I don't like this Vision plan to much, in my personal opinion."
Stearn noted that he supports the idea to construct large entry sign welcoming people to historic downtown area, as part of the Vision Sonora plan, but opposes many other changes it proposes.
Stearn has served 13 terms in office, and at this point, he says he has no plans to seek a 14th term. He laughingly says, "If I can finish my next two years, and I last that long, I'll call it a day."
Stearn was given a special cake, and plaque, last night by the Sonora City Council in recognition of his 50 years of service.