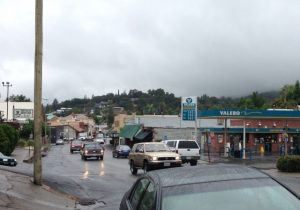 Rain In Sonora

View Photos
A cool Pacific storm system is bringing wet weather to the region and there is a wetter storm forecast later this week.
Snow levels are currently around 5000 feet. A few inches of snow accumulation is expected above 6000 feet.
Showers and thunderstorms in the Mother Lode could bring locally heavy rain and slippery roads. Stronger storms could contain small hail, gusty winds and locally heavy rain.
The best chances for thunderstorms are mid-day Tuesday.
Around a tenth of an inch rain is forecast in the central valley. A quarter to a half inch of rain is expected in the Mother Lode through Tuesday night.
A stronger storm will arrive late Thursday, bringing the potential for more rain, thunderstorms and mountain snow through Saturday. Snow levels will range from 5000 through 6000 feet later this week.
Thunderstorms may affect the area on Friday.