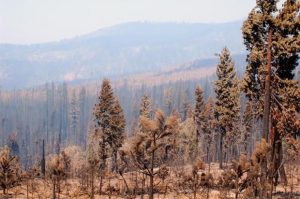 Rim Fire Burned Area

View Photos
Mi Wuk Village, CA — A community meeting is scheduled for tonight regarding some debris piles left following the Rim Fire.
It will begin at 6pm at the Mi Wuk Sugar Pine Fire Station. A shaded fuel break near Mi Wuk Village was cleaned out during the Rim Fire, by CAL Fire, in the event that it would be needed to protect the community. It resulted in several debris piles that were left behind. The plan was to burn the piles over the winter, but it got postponed due to the dry conditions. Mi Wuk Sugar Pine Fire Chief Larry Crabtree reports that a CAL Fire Battalion Chief will be on hand to talk about the piles and different options being looked at. Those options could potentially include chipping, burning them if wet weather arrives, or leaving them until next year.
Tonight's 6pm meeting is open to the public.