Celebrities Serving Dinner Next Week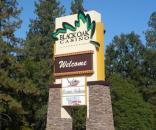 Black Oak Casino Resort

View Photos
One week from tonight, there will be numerous "Celebrities Serving Dinner" in Black Oak Casino Resort's Four Winds Ballroom.
Robin Rowland, Sonora Sunrise Rotary President and Sarah Garcia, Big Dreams Playground President, were both Friday's KVML "Newsmaker of the Day".
The main objective of Rotary is service — in the community, in the workplace, and throughout the world. Rotarians develop community service projects that address many of today's issues. They also support programs for youth and educational opportunities.
"Sarah came to give Sonora Sunrise Rotary a presentation about Big Dreams last year," said Rowland. "Afterwards, we unanimously agreed to support the Big Dreams playground project in Tuolumne with this years annual "Celebrities Serving Dinner".
The proceeds from the dinner benefit on Friday April 25th, are going to help build an inclusive and universally accessible playground at Tuolumne Memorial Park. Garcia will be give a presentation during the dinner and will explain the history of Big Dreams as well as talk about the purpose and the specific project planned by the non-profit group.
Hollywood actor Stuart Whitman will be one of the celebrities serving dinner next Friday night. The list of local celebrities include Randy Hanvelt, Steve Campbell, Shelley Piech, Eric Hewitt, Ron Patel, Larry Cope, Sarah Garcia, Ben Hulet, Chris Rogers, Tom Scesa, John Gray, Phil Von Swol, Mark Truppner, Clark Segerstrom and Matt Hawkins.
Live music and cocktails begins at 6 PM. The dinner, catered by Seven Sisters Restaurant, starts at 7:00 PM.  The dinner includes a hosted wine bar and $25 in free slot play that evening inside of the casino.
A limited number of tickets are still available. Call Cathie Peacock at (209) 586-4802. Reservations are needed as no tickets will be available at the door.
For more information, click http://sonorasunriserotary.org/Celebrities_Serving__2.html
The "Newsmaker of the Day" is heard every weekday morning on AM 1450 KVML at 6:45, 7:45 and 8:45am.