Sonora High School Presents Rachel's Challenge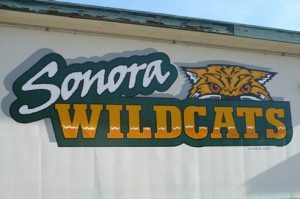 Sonora High School

View Photos
There will be two student assemblies at Sonora High School today. Tonight, there will be a full community event in the Sonora High School Auditorium. This free event is part of a national student empowering program called "Rachel's Challenge".
Joe Silva, Tuolumne Superintendent of Schools, was Thursday's KVML "Newsmaker of the Day".
Today's event at Sonora High takes place just two days shy of the fifteen year anniversary of the tragic events at Columbine High School in Colorado.
Rachel Scott was a student and the first victim of the Columbine shooting on April 20, 1999.
Based on the life and writings of Rachel, "Rachel's Challenge" provides a continual improvement process for schools designed to awaken the learner in every young person. The program is designed to motivate students to start and sustain a chain reaction of kindness and compassion that transforms schools and communities.
Rachel's Challenge includes a series of student empowering, educator motivating strategies called the "Awaken the Learner Five-step School Improvement Process" that equips students and adults to create and sustain safe, caring and supportive learning environments essential for academic achievement.
Rachel left a legacy of reaching out to those who were different, who were picked on by others, or who were new at her school. Shortly before her death she wrote,
"I have this theory that if one person can go out of their way to show compassion, then it will start a chain reaction of the same. People will never know how far a little kindness can go."
Darrell Scott, Rachel's dad, will be addressing the students at two separate assemblies today and then showcasing his multimedia presentation before the community tonight in the Sonora High Auditorium at 6:30 PM.
Silva emphasizes that the recommended audience for tonight's estimated one hour presentation is no younger than sixth grade.
Rachel's Challenge was started by Rachel's dad and stepmom when they realized that the writings and drawings Rachel left behind not only had an impact on her friends and classmates, but also resonated with students around the world.
According to her father, Rachel was a typical teenager who wrote about her "ups and downs" and had a passion and conviction that she would someday change the world. The Scott family knew that her story had to be told in order to inspire others to make their world a better place.
More than 21 million people have been touched by Rachel's message, and they continue the legacy of making a difference in their communities. This year at least 2 million more people will be added to that number.
There have been proven results associated with Rachel's Challenge. In one survey, 78% of students indicated they would definitely intervene in a bullying incident in their school after seeing Rachel's Challenge. In the last 3 years, Rachel's Challenge has received nearly 500 unsolicited emails from students stating that after hearing Rachel's story, they reached out for help as they were contemplating suicide. Some even state that "Rachel saved their life."
The "Newsmaker of the Day" is heard every weekday morning on AM 1450 KVML at 6:45, 7:45 and 8:45am.