Regaining Trust After Rim Fire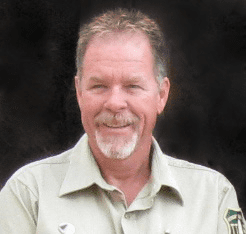 Jim Junette, Stanislaus National Forest

View Photos
Sonora, CA – The new overseer of the Groveland Ranger District in the Stanislaus National Forest says he will work to regain the public's trust following the devastating blaze.  As reported earlier this week, Jim Junette, a 23-year employee of the forest, has been hired as the District Ranger.
Junette ask the public, "to give us a little time to get back on our feet and get things going in the right direction." Junette says,  "They [the public] can trust, at least from the Groveland standpoint,  that we're going to do all we can to regain their trust from the Forest Service standpoint and to get the resources back into order so they can get back out there and enjoy their public land."
Junette understands local resident's frustration with not being able to use the entire forest saying, "I'm a taxpayer and I'm a forest user too.  My top goal is to get it [the forest] open, but to make sure it's safe for the people to use it."
Junette's first day on the job will be June 2. He replaces former District Manager Maggie Dowd.