16,000 Tons Of Rock Fall Near Hetch Hetch Reservoir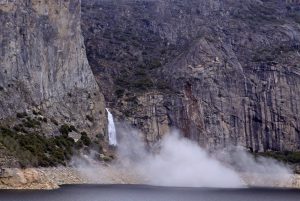 Yosemite Rock Fall

View Photos
A rockfall in the Hetch Hetchy area of Yosemite National Park closed a trail east of Wapama Falls, according to Yosemite National Park spokesperson David Miyako.
Miyako was Thursday's KVML "Newsmaker of the Day"
The rockfall happened about 1:30 p.m. on Monday March 31st just east of Wapama Falls above the Hetch Hetchy reservoir.
Thankfully, no one was injured. That portion of the Park is located in or near the area that had just reopened to general public. It had been closed since last year's Rim Fire.
Because of the rockslide, the Rancheria Falls trail is closed just east of the Wapama Creek footbridges for safety and because boulders are preventing access beyond Wapama Falls.
The estimated 16,000 tons of rock fell from about 500 feet above the base of the cliff. The rocks crushed trees and created a small cloud of dust. Many of the large boulders tumbled into the reservoir. Roughly 400 feet of the trail was destroyed in the main area of impact.
Hikers can still access Wapama Falls starting from the O'Shaughnessy Dam.
However, according to Miyako, the trail to Rancheria Falls just after Wapama Falls will be closed until further notice.
The "Newsmaker of the Day" is heard every weekday morning on AM 1450 KVML at 6:45, 7:45 and 8:45am.