Like They Were Never Here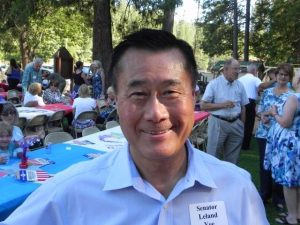 Leeland Yee

View Photos
Sacramento, CA — The California State Senate has removed the online archives and names of the three suspended Senators tied up in criminal cases.
Democratic Senators Leland Yee, Ron Calderon and Ron Wright were all suspended on March 28th. However, the three are still receiving paychecks. The Senate has removed names from their official government websites, video clips and legislative archives. The sites now only list information about the senate districts.
Senator Yee was indicted on federal charges that included accepting bribes and coordinating an international gunrunning operation. Senator Calderon faces federal corruption charges in regards to accepting bribes in order to steer legislation for his benefactors.  Senator Wright was convicted of voter fraud and perjury.
Senate President Darrell Steinberg has not stated why the names and archives were removed. Governor Jerry Brown has called for the resignation of the three Senators.