Council Will Vote On Mono Way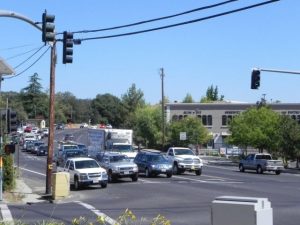 Mono Way at the Greenley Road intersection

View Photos
Sonora, CA — Following some recent hurdles, the Sonora City Council will vote whether to award a contract for the Mono Way widening project.
The City received bids for the project last November, but the lowest bid was around $1-million over the $3.2 million that the City had budgeted. The bids were thrown out, and a second round of bidding occurred over the winter. The overall bids were down just slightly from the first time around.
On March 18th the Tuolumne County Board of Supervisors agreed to put up the extra $959K in Traffic Impact Mitigation Fee funding needed to move the project forward.
At Monday's Sonora City Council meeting will be a vote on whether to award a contract to the lowest bidder, George Reed Incorporated. The recommendation before the Council is to allow the company to do an open cut culver, in lieu of boring and jacking, to save around $222K.
If the contract is approved Monday, construction could begin later this month. The plan is to widen Mono Way from Greenley Road to Fir Drive.
In other business, the Council will decide whether to approve a 2013 annual report that was created by city staff, and vote whether to reappoint Ron Kopf to the Airport Land Use Commission.
Monday's meeting starts at 5pm at Sonora City Hall.