Vilsack Sends Rim Fire Letter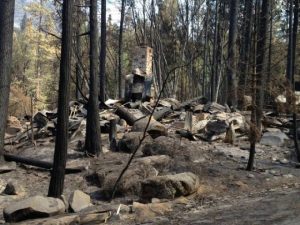 Rim Fire Damage

View Photos
Sonora, CA — Tuolumne County has received a letter back from U.S. Secretary Tom Vilsack regarding the initial attack on the Rim Fire.
The Tuolumne County Supervisors sent a letter on January 21st asking for answers to various question. Notably, it requested that the USDA undertake an independent investigation into the cause of the fire, and the response actions taken during the first seven days. The Forest Service is under the umbrella of the USDA. There are various questions the county would like to see answered. Some include: When were ground resources first applied? When and where was retardant used? What are the rules and policies that apply to the US Forest Service Firefighters, and are they different from those such as CAL Fire?
The letter from Agriculture Secretary Vilsack stated that, "From the onset, the fire was managed under a full-suppression strategy using the closest available firefighting resources and the most aggressive tactics that could be safely carried out." The letter adds that airtankers and helicopters dropped 33,000 gallons of retardant on the first day, and 650,000 gallons during the first week.
The letter also noted that all inquiries regarding the responsible individual that started the fire should be directed to the U.S. Attorney's Office in Fresno. At yesterday's Supervisors meeting, County Counsel Sarah Carrillo spoke about a telephone call she recently made to one of the attorney's involved in the investigation. "He wasn't able to provide much information, and he indicated that the investigation was thorough," Carrillo said. "He said there was a lot of data collected, so it was taking a lot of time to review it. He said this case is a huge priority for their office, and that they will be proceeding at some point in the future. He did not give me a date."
The County Supervisors felt the letter from Secretary Vilsack was inadequate. District Five Supervisor Karl Rodefer referred to it as a "slap in the face" to the Supervisors because it did not answer the specific questions.
Vilsack's letter did note, "The Forest Service stands ready to participate in a multi-agency after action review, once the other fire and land management agencies are prepared to conduct such a review."
The Supervisors noted that they will send a follow-up letter, and hope to hold the Forest Service to that statement.