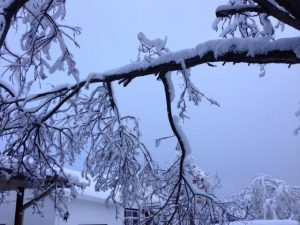 Snow on branches

View Photos
The National Weather Service has issued a Winter Storm Warning for the Sierra Nevada above 3000 feet, from 2 PM Monday through 11 AM Tuesday.
Additionally, a Winter Weather Advisory has been issued for the Mother Lode above 2500 feet from 8 PM Monday through 11 AM Tuesday.
One to three inches of snow accumulation is expected above 2500 feet. Three inches to two feet of snow is forecast above 3000 feet.
Winds of five to ten mph are possible in the Mother Lode with gusts up to twenty-five mph. In the Sierra, the winds will range from fifteen to twenty-five mph with gusts up to sixty-five mph across the highest ridges.