Four Arrested In Drug Busts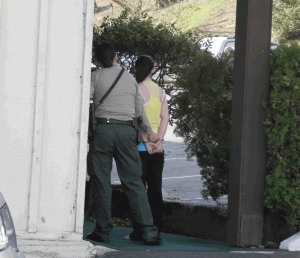 Sonora Drug Bust

View Photos
Sonora, CA — Four people were arrested on drug charges following an investigation by the Tuolumne Narcotics Team.
An arrest warrant was served in the 18000 block of Carter Street in Tuolumne, and detectives found drug paraphernalia. Arrested were 24-year-old Vincent Craig Bowne and 22-year-old Sondra Anne Ledsome. The Sheriff's Office reports that a second bust was carried out in connection at a hotel room in downtown Sonora. 20-year-old Briaunna Marie Pender and 25-year-old Russel Allen Lee Jr. were inside a room at the Inns Of California, and detectives seized 10.28 grams of heroin, two grams of methamphetamine, and .8 grams of marijuana and 25 prescription pills.
Sgt. Scott Johnson of the Sheriff's Office reports that TNT is still actively investigating the case, and more charges could be added, including illegal drug sales within 1,000 ft. of a school, as the home in Tuolumne was near Summerville Elementary.
Lee and Pender remain in Tuolumne County Jail on $50K bail, and Bowne and Ledsome have been cited and released from custody.