Sierra Nevada Winter Storm Watch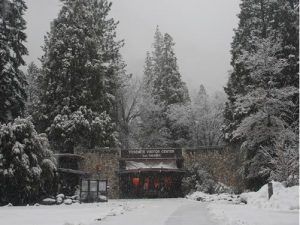 Winter In Yosemite
The National Weather Service has issued a Winter Storm Watch for the Sierra Nevada above 5500 feet, from late Friday night through late Saturday night.
Half a foot to three feet of snow accumulation is expected above 5500 feet.
Snow levels on Friday will range from 6000 through 7000 feet. By Saturday night, the snow levels will drop down to 4000 feet.
There is a chance of thunderstorms in the region on Saturday afternoon and evening. Thunderstorms may bring ponding of water, hail, gusty winds, and possibly a tornado.
Half an inch to an inch and a quarter of rainfall will be possible across the central valley. Over the lower Sierra Nevada, two to five inches of precipitation is expected.
Winds of ten to twenty mph with gusts up to thirty-five mph are expected.