Winter Storm Watch Issued For Sierra Nevada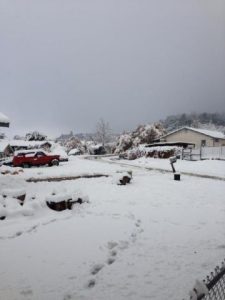 snow

View Photos
The National Weather Service has issued a Winter Storm Watch for the Sierra Nevada above 5500 feet from Tuesday afternoon through Thursday morning.
Snow levels will initially begin around 6000 through 7500 feet on Tuesday before lowering to 4500 feet on Wednesday.
Six to twelve inches of snow accumulation is expected above 4500 feet. One to two feet of snow accumulation is likely above 6000 feet.
Wind gusts of up to forty-five mph are anticipated across the highest ridges.
Up to half an inch of rain is forecast in the central valley. Up to two inches of rain could fall in both the Mother Lode and the lower Sierra.
Additionally, there is a possibility of thunderstorms on Wednesday.
There will be a decreasing threat of showers on Thursday. Additional systems are possible later in the week.