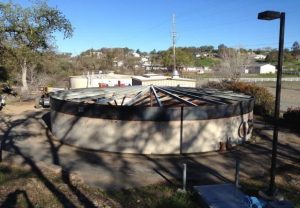 Jenny Lind Clearwell repair

View Photos
San Andreas, CA – Calaveras County Water District (CCWD) has an update on where dollars from its controversial rate increase have been put to work.  The rates went into effect last fall.
CCWD lists some of their key projects below:
 Completed or nearly completed:
Flood Mitigation Project at Jenny Lind
Copper Cove/ Poker Flat Lift Stations # 9 and # 10
Arnold/Mill Woods sewer connection
Work in progress:
Jenny Lind Clearwell repair
Replacing water transmission line in Ebbetts Pass (designs nearly complete for the first phase)
Work to start in April:
Fly-In Acres (replacement of the water distribution lines)
CCWD says customers will benefit by fewer failures and breaks.
Director of Administrative Services Jeff Meyer says, "It [rate hike] is a hardship on our customers, but in the long run it's going to save our customers money because we are doing and fixing things before they become catastrophic failures.  It is important to use to be proactive."