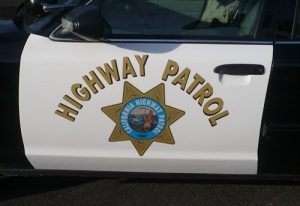 CHP Patrol Car Logo

View Photos
Groveland, CA — The CHP reports three vehicles and a dump truck have collided in Tuolumne County.
The wreck happened on Highway 120 at the intersection of Whites Gulch Road east of Groveland. There are reports a truck spun out and hit a guardrail. The CHP reports a dump truck was towing a trailer with a forklift on it and the trailer flipped over. The forklift is on the highway blocking the roadway.  It is unclear at this time how the other vehicles are involved in the wreck.
The CHP reports one person has minor to moderate injuries at this time. An ambulance is heading to the scene.
Click here for a map of the crash site.
Update 9:10 a.m.: The CHP reports only the eastbound lane of 120 is blocked.  Officers are conducting one-way traffic control.  An ambulance is on scene.
Update 10:00 a.m.: The CHP reports 120 has been shutdown again so a tow truck can remove the forklift.  The will be rerouting traffic to the Old Highway 120 until the debris is cleared.
Update 1:30 p.m.:  The CHP reports during recovery of the debris a fuel tank ruptured and diesel fuel spilled into a nearby creek. The State Department of Fish and Wildlife has been notified of the hazard.  The road has been closed for almost 5 hours.
Update: 4 p.m.:  The CHP reports the roadway is still closed and they have no estimated time as to when it will open again. Traffic is still being rerouted to Old Highway 120.