T.U.D. Approves Water Buy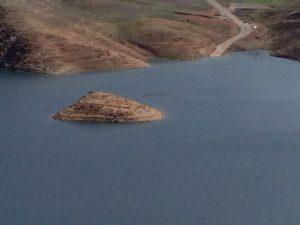 New Melones low water levels

View Photos
Sonora, CA – Today the T.U.D. Board of Directors voted unanimously to purchase water out of New Melones.
The agreement is for the South San Joaquin Irrigation District (SSJID) to sell up to 2,400 acre ft. of water from its allotment out of New Melones to the Chicken Ranch Rancheria of Mi Wuk Indians, at a price of $200 per acre ft. The tribe will keep approximately 100 acre ft., and sell the remaining allotment to T.U.D.
Just after the vote Director Ruanne Mikkelsen said, "I think we owe SSJID a very deep debt of gratitude for them making this water available and for selling it so below market value, just to help our community out. We also owe the tribe a debt of gratitude for helping to set this up to help the entire community of Tuolumne County."
The tribe was first to initiate the talks with SSJID about acquiring additional water for their needs, and T.U.D. later heard about it and joined in on the negotiations. The tribe will not make any profit on the water sale to T.U.D.
During the discussion, Director Kent Johnson asked if the agreement called for a minimum amount of water to be purchased. T.U.D. General Manager Tom Scesa responded, "That was one of the nice things about this agreement. There isn't a minimum agreement, there is only a maximum that we can [buy] and that was one of my concerns because normally water is sold in blocks, and we are only being charged on what we're consuming."
Scesa adds there may need to be a NEPA or CEQA review that will cost around $5k. The SSJID Board of Directors approved the sale at an earlier meeting.