Spending More On Mono Widening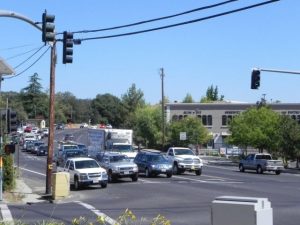 Mono Way at the Greenley Road intersection

View Photos
Sonora, CA – The Tuolumne County Board of Supervisors agreed to put up the extra $959K in Traffic Impact Mitigation Fee funding, but not before questioning why the bid was so far off the mark.
Sonora's City Engineer, Gerald Fuccillo told the board he has wanted to address this issue because he has "taken a lot of heck over it."  He says the original estimate of $3.2 was based upon a preliminary engineering study, that was before any environmental, property acquisition or final design was put into the budget.
Fuccillo added, "I could have in the preliminary engineering said let's just add 50% to the estimate and then I would look like a hero.  I think in bidding this thing twice, and with the knowledge that we had a low budget, you got the best price for the buck."
The project will widen Mono Way from Greenley Road to Fir Drive.  One additional cost is a more than $147K decorative rock finish on a retaining wall. It is an item one business owner along that roadway is not willing to give up.
Pinnell's Carpet One Owner Dan Pinnell stressed,   "As we come into this community, it's going to say something about who we are and what we look like.  I just want to impress upon you that it's my desire, as the guy most impacted, that I always thought that [the rock finish on wall] was going to happen.  I will be extremely disappointed if it doesn't happen, so please keep that in there."
The Board voted unanimously to spend the extra money. The next step will be for the Sonora City Council to award the contract.  That vote is expected to come at its first meeting in April.