Update: Power Outages In Groveland, Angels Camp And Greeley Hill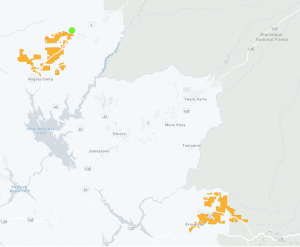 9-2-21 Power Outages

View Photo
Update at 11:15am: The earlier power outage in Angels Camp has now been restored.
The number of customers without electricity in Groveland has been reduced to around 1,000. Full restoration is still anticipated by 2pm.
Over 600 are still without power near Greeley Hill, with full restoration projected by 3pm.
Update at 9:45am:  Nearly half of the 698 PG&E customers without electricity in Angels Camp have now been restored. Full restoration should come by late this morning. Nearly 1,800 customers remain without power near Groveland. Full restoration there is anticipated by two o'clock. There is also a new outage impacting 686 customers in the Greeley Hill area of Mariposa County. That incident should be restored by about three o'clock. PG&E has not released any causes.
Update at 7:40am: PG&E reports that there is a new power outage now impacting the greater Groveland region. Because of it, Tioga High and Tenaya Elementary School will be closed today. The outage is anticipated to be restored by 2pm. Just over 1,800 customers are impacted. It is unclear what caused it.
The earlier reported outage in Angels Camp is still estimated to be restored by 11am.
Original story posted at 6am: Angels Camp, CA — There is a power outage this morning impacting 698 PG&E customers around the greater Angels Camp area and stretching toward Murphys.
It started at around 4:45am, and the company is hoping to have everyone restored by 11am. Many of the customers without electricity are along Murphys Grade Road. It is not immediately clear what caused the outage.