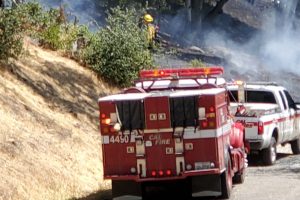 Covey Incident in Sonora

View Photos
Update at 3:10 p.m.:  CAL Fire has dubbed the fire in Sonora the "Covey Incident." It has been contained at one acre. Two buildings were evacuated to assist firefighting activities. They were the Watch Resources Inc. and Foothills Pediatric and Rheumatology buildings off of Cabezut Road. The flames came right up to the back of those offices.
Update at  2:38 p.m.: CAL Fire reports that firefighters have stopped the forward rate of spread on a vegetation blaze in Sonora.
The flames ignited in some grass on Cabezut Road near Cedar Road and Covey Circle, off Greenley Road. It took air and ground resources about 15 minutes to get a handle on the fire and stop the forward rate at one acre. Aircraft have returned to Columbia airbase while ground crews will continue working on full containment and mopping up. The cause of the fire is under investigation.
A special thank you to our community partners Melissa Henington, Nicole Kikugawa, Stefanie Jones-Meyer, Andy Mattos, Doug Schmiett, and Ashley Diehr for sending in photos.
Original post at 2:15 p.m.: Sonora, CA — Air and ground resources are heading to a vegetation fire in Sonora. CAL Fire reports it is on Cabezut near Cedar Road, off Greenley Road. There is no word on the fire's activity at this time or whether any structures are threatened. An update will be provided as soon as new information comes into the newsroom.