Money To Renovate Tuolumne Apartments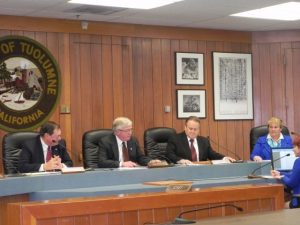 Tuolumne County Board of Supervisors

View Photos
Tuolumne, CA — Tuolumne County has received a hefty state grant that will benefit residents eligible for low-income housing.
"The County of Tuolumne was awarded $3.3 million from the State Department of Housing Community Development Home Program to assist with the renovation of the Tuolumne Apartments Complex," announced CRA Director Bev Shane at Tuesday's Board of Supervisors meeting. "That complex has 52 affordable family apartments. It was built in 1974 and it is owned by the Michaels Organization."
The facility, located at 18400 Tuolumne Road, has not gone through any type of renovation since it was constructed. Shane says the money will rehabilitate the affordable housing complex and extend the affordability of the apartments for another 55 years. She notes that the organization has stated that it will seek out local contractors to do the renovation work.
County documents show that the construction will likely include the following:
• Exterior work to existing buildings including reroofing, new gutters, foundation repair, new energy efficient vinyl windows, repair/replace existing siding, repair/replace stair treads and railings as needed, install second stairwell to upper landings, structural and dry rot repair as needed, and repainting.
• Site work – remove/repair existing concrete, make concrete walkways as ADA accessible as possible and add ADA spaces to parking area if required, repair asphalt in parking lot and entry road and install a new overlay, repair/replace gates as needed, upgrade exterior lighting, and improve site drainage.
• Playground and picnic area will be upgraded to comply with ADA requirements.

• Existing laundry/maintenance building will be replaced with a larger multi-purpose community room including laundry, maintenance, storage, leasing offices, kitchen, multi­-purpose room and ADA compliant restroom facilities.
• Apartments will be completely renovated with new HVAC systems, water heaters, plumbing and electrical upgrades, new flooring and carpets, painting, upgraded lighting, new toilets, new bathroom and kitchen faucets/hardware, new kitchen appliances, kitchen cabinets/counter-top/sink/garbage disposal.