Brown: California Is Model For Economic Growth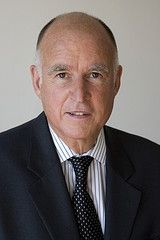 Jerry Brown

View Photos
California's Gov. Jerry Brown says the state could be a model for a national economic growth after cutting public programs, raising taxes on the wealthy and continuing to invest in infrastructure.
Brown was Tuesday KVML "Newsmaker of the Day".
Brown said just a few years ago people were calling California a failed state, but the fact is, from a $27 billion deficit the state now has a very significant surplus that can continue for many years to come.
Brown spoke to about 100 technology business leaders Monday at a Silicon Valley Summit focusing on innovation.
Brown was elected for his third term as governor in 2010; since then, the state budget deficit dropped, while credit ratings improved.
According to the Los Angeles Times, Brown blasted the notion of government-imposed standards for public schools, saying he opposed efforts from Washington and Sacramento to dictate education policy.
Using "data on a national or state level I think misses the point — that learning is very individual, very personal," Brown said. "It comes back to the teacher and the principal. The leader of the school is by far the most important factor."
When asked if he supported national education standards, Brown said, "No. That's just a form of national control."
The "Newsmaker of the Day" is heard every weekday morning on AM 1450 KVML at 6:45, 7:45 and 8:45am.