President Declares Rim Fire A Disaster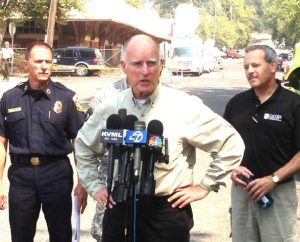 Governor Jerry Brown In Tuolumne During 2013 Rim Fire

View Photos
Tuolumne County, CA – The President's declaration of the Rim Fire area as a disaster means Tuolumne County could get some much needed money to help pay for recovery efforts.
The U.S. Department of Homeland Security's Federal Emergency Management Agency (FEMA) announced today that federal disaster aid has been made available to the State of California. The money is to supplement state and local recovery efforts due to damage by Rim Fire. The Rim Fire started on August 17, 2013 and burned 257,000 acres until it was considered fully out on October 24th. 154,430 of those acres were on National Forest System (NFS) lands. The Rim fire is the third largest wildfire in California history.
In early November, a major disaster declaration to help with public assistance due to the Rim Fire was denied by FEMA, but the Governor appealed. Today's Presidential declaration makes federal funding available to state and eligible local governments and certain private nonprofit organizations for emergency work and the repair or replacement of facilities damaged by the Rim Fire in Tuolumne County. Federal aid is also available for hazard mitigation measures statewide. That money comes on a cost-sharing basis for both of those recovery efforts.
Stephen M. DeBlasio Sr. is the Federal Coordinating Officer in charge of federal recovery operations in the Rim Fire affected area. DeBlasio says there could be additional designations made if the state requests them and further damage assessments warrant those designations.
More information on a Stanislaus National Forest Open House Meeting tomorrow regarding the Rim Fire Environmental Impact Statement is here.