Rim Fire Recovery Open House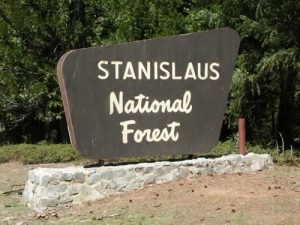 Stanislaus National Forest

View Photos
Sonora, CA – The Stanislaus National Forest will be hosting an open house tomorrow, December 10th from 2pm to 7pm at the Stanislaus National Forest Supervisor's Office (19777 Greenley Road, Sonora, CA 95370) Th focus of the Open House is the project to remove hazard trees from areas burned by the Rim Fire.
Forest service Spokesperson, Pamela Baltimore, says "We will have comment sheets here and people here to assist them (the public) but mainly its maps and just an opportunity for people to visit with one another and also local stakeholders just to have some questions answered about the hazard tree removal process."
Jim Junette, Rim Fire Hazard Tree Team Leader says it will allow, "the public and stakeholders to familiarize themselves with the proposed Rim Fire Hazard Trees (Rim HT) project details, and the National Environmental Policy Act (NEPA) process. In addition, to answer questions prior to the end of the public comment period on December 16, 2013."
There will also be a webinar on December 10th at 10am PST. The webinar will present information gathered by a team tasked with designing and describing the desired fire management and fuel treatment goals within the Rim Fire area. To register go to Cafiresci.org/2013-webinars
Stanislaus Forest Supervisor Susan Skalski last month announced a project to improve public health and safety by removing standing hazard trees and other trees previously felled during fire suppression across 7,630 acres of National Forest lands within and adjacent to 148 miles of high use roads and other developed facilities.
The Rim Fire started on August 17, 2013 and burned 257,000 acres. 154,430 of those acres were on National Forest System (NFS) lands. The Rim fire is the third largest wildfire in California history.
The Stanislaus National Forest will also be hosting two open houses next week on Friday and Saturday. The information at those open houses will be about the Rim Fire proposed Environmental Impact Statement (EIS) project details, and the National Environmental Policy Act (NEPA) process.