High Approval Rating For Gov. Brown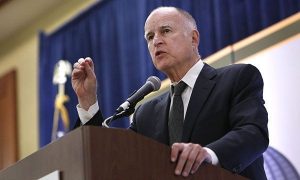 Governor Jerry Brown

View Photos
Sacramento, CA – Gov. Jerry Brown's approval rating has reached a new high according to a just released Field Poll. Nearly six of 10 registered voters approve of his performance, up seven points since a similar survey in July. Brown, a Democrat, has not said if he will seek a fourth term.
According to the Field Poll more than three in four Democrats (78%) offer a positive evaluation of how Brown is handling his job and just 14% give a negative assessment. About six in ten Republicans (63%) disapprove of Brown's performance, while 27% approve. Among independent voters 58% approve and 33% disapprove.
Gov. Brown shows considerable strength among voters across most demographic and regional subgroups of the state, and fares best among liberals, ethnic voters, voters not affiliated with the Tea Party, and voters in coastal counties, especially the urban areas of Los Angeles County and the nine-county San Francisco Bay Area.
The Field Poll report is a telephone survey completed November 15 through December 3, 2013 among 836 registered voters in California. Up to six attempts were made to reach, screen and interview each randomly selected voter from the state's registered voter rolls on different days and times of day during the interviewing period.