TUD: Frozen Water Pipes A Concern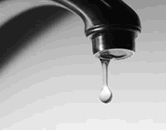 Water

View Photos
Sonora, CA — With temperatures expected to drop well below freezing this week, it increases the possibility of broken water pipes.

"Taking time now to do some preventative measures can ensure that you will have water flowing to your home or business, and also saves water and money from pipes that can burst," says Tom Scesa, General Manager for TUD. "We encourage our customers to take steps to insulate their pipes and protect them against freezing temperatures."
The following tips are from T.U.D.
• Outside faucets, pipes and pipes in unheated garages and crawl spaces are most vulnerable to freezing weather. To prevent pipes from freezing, wrap them with insulating material. Cover them with plastic and secure with tape, string, or wire. Also, remember to disconnect garden hoses.
• Find your main water shut-off valve now! If a pipe breaks, you can stop excessive water loss and flooding by turning off your main water shut-off valve. It is commonly located next to the meter, in the garage, or outdoors by the foundation.
• Store some extra water during freezing weather in case a main break or frozen pipe cuts off your water supply.
• Do not keep water running to keep pipes from freezing.