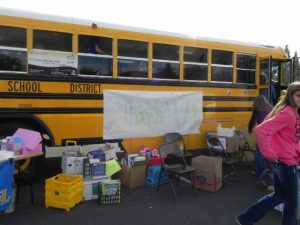 Stuff The Bus Drive For Supplies

View Photos
Sonora, CA — Plenty of you helped with much needed supplies for students and teachers after this Saturday's fire at Sonora Elementary. One family even came from San Jose; well they were actually visiting for the holidays.

"We heard the school needed help, so we snagged up some supplies and brought it by to help out," says Parent Sara Dean. Her six year-old son Connor says they brought, "Stuffed animals, pencils, binders and markers. I feel sad for the kids."
The school's PTO group, Support Sonora School (SSS), hosted a "Fill the Bus" drive this morning at the school. Parents and students came out to help. Nine year-old Jacqueline Ciabattari is in the fourth grade. She says her classroom got the worst of the smoke and water damage. Ciabattari says, "I just wanted to donate and help."
Insurance Adjusters were on scene today walking through the charred classrooms. Sonora Elementary Principal Chris Boyles says most of the damage will be covered by insurance except, "A lot of the stuff that kids lost in the fire will not be covered by insurance. Their own personal belongings and school supplies, so it's really generous of the community to give the supplies they need to be successful in the classroom and back into the student's hands."
SSS President Carla Salyers, with tears in her eyes, was overwhelmed by the generosity. She says after sorting some of the donations they found some other supplies were needed. "Ear Buds for children who lost their iPad, Band-Aids, board games, and puzzles are needed for our Special Education and Counselors. They pretty much lost everything in the fire so anything that can be therapeutic, posters and books even paper borders," says Salyers.
Donations are still being accepted. You can click here for an earlier story with a list of most of the supplies needed. There is also a SSS Fire Relief Fund set up at the Bank of America in downtown Sonora for cash donations.
Click here for a video of the event.