Moving Forward On Stadium Plans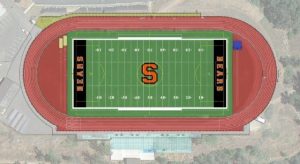 Summerville Bears

View Photos
Tuolumne, CA — Eight lanes and bleachers are approved by the Summerville High School Board for the new Stadium. The Board of Trustees opted for eight instead of six lanes for the track circling the football field. The Trustees have been approving designs for phase one of the stadium project.

Summerville Superintendent Robert Griffith says, "The most difficult part I'd say in the last few weeks has just been overcoming different design issues as it pertains to fitting the entire stadium into the footprint we have. It's very tight, but it will fit."
The Trustees also approved a deferred submission to the State Department of Architects. The plan includes visitor bleachers, but not to be built right away.
"We'll continue our configurations where the "home" and "away" bleachers are split on one side of the stadium. It leaves the visitor bleacher design in the plans, so when we get the funds, it can be paid for down the road when we move in that direction," adds Griffith.
The stadium is being funded by the $8 million Measure H bond passed by voters in 2012. Construction on a new stadium is tentatively scheduled for the late spring of 2014. Click here for an earlier story on other decisions the board has made in regards to the stadium.