Bullet Train Loses Court Cases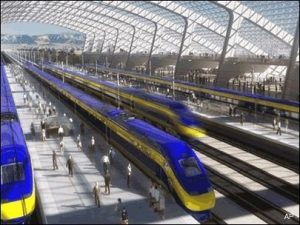 HSR

View Photos
Sacramento, CA — A Sacramento County Superior Court judge is blocking the sale of bonds to build California's bullet train and has rejected the state's funding plan.
In rulings issued Monday, Judge Michael Kenny rejected a request from the California High-Speed Rail Authority to sell $8 billion of the $10 billion in bonds approved by voters in 2008. According to the Associated Press, He says state officials were wrong to determine it was "necessary and desirable" to start selling the bonds.
In a separate lawsuit, Judge Kenny also ordered the rail authority to redo its $68 billion funding plan before continuing construction, a process that could take months or years.
The rail authority had argued that it has already updated its funding plan and that it intends to spend $3.2 billion in federal money before tapping the state bonds. They also argued that only the state Legislature could intervene to stop the project.
The lawsuit claimed that the project's current plan no longer complies with what voters were promised, and the judge agreed.
Proposition 1A, which voters approved in 2008, required the rail authority have all the funding and all the necessary environmental clearances in place. Judge Kenny had said the agency did not comply with either mandate. The Rail Authority sold bonds and wants to begin construction on 30 of the 300 miles from Madera to Fresno.
Michael Brady, an attorney for Central Valley residents who had sued to halt the project said, "It's taken them 5 years to do 28 miles (of environmental clearances), so how long will it take them to do 300 miles?"
The plaintiffs had also asked Judge Kenny to block spending of the federal funds and rescind construction contracts, including a $1 billion deal signed this fall, but the judge declined to do so.
The Associated Press notes that the California State Treasurer's Office has already issued more than $705 million in Proposition 1A bonds, about $400 million for high-speed rail and about $305 million for related rail-improvement projects that could eventually be connected.