Tuolumne County Approves Property Sale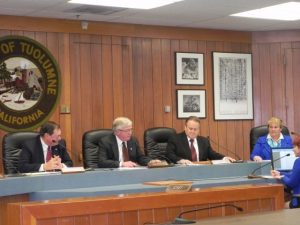 Tuolumne County Board of Supervisors

View Photos
Sonora, CA — The Tuolumne County Supervisors have agreed to sell a nearly half acre piece of property on North Sunshine Road to the company McDonald Machine.
The property will be sold for $290K, and the payments will be made through 2018, similar to a lease. The county reports that the $290K figure was a recent appraisal value of the property. McDonald Machine started doing business in Tuolumne County 30 years ago, and produces parts used in fields like the aerospace industry and for surgical robots.
Owner Bill McDonald addressed the Supervisors this morning, and said the company started with just a couple of employees, but they now have over 35. They are planning to further expand over the coming several years.
The property being sold is situated next the McDonald Machine facility on North Sunshine Road, which makes it easy for the company to expand. The property is part of an overall 1.2 acre parcel that also houses an Ambulance Station and the Emancipated Youth House (Hope House). There are some industrial buildings on the property, which McDonald Machine will receive in the agreement.
Bill McDonald thanked the county and the Tuolumne County Economic Development Authority for their efforts in helping their expansion.
Today's vote of the Board of Supervisors was unanimous.