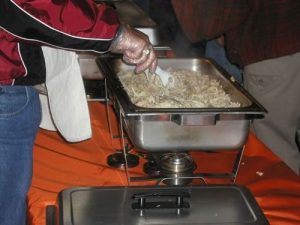 Turkey served

View Photos
Thousands of Mother Lode families need your help to make the Holidays a little brighter. Area food banks report the need is great. The Resource Connection of Calaveras County Program Director Jeannie Hayward says they feed one thousand families monthly and that number jumps to1, 300 for the Holidays.

"The need is as high as it's ever been. There are people out there who are under employed. There are those that have fallen off the unemployment rolls and are still looking for jobs. Those families need food," says Hayward.
Lee Kimball at the ATCAA food bank in Tuolumne County says they have been working in overdrive for the past couple of months thank to the Rim Fire. Kimball says luckily the fire did not deplete the food supply.
"We didn't use any of the foods that were already set aside for the community. We just used staff to solicit favors from outlying communities to help get more food and organize the locals to donate products that were needed to keep the evacuation center fed," says Kimball.
Now they have the task of getting out around two thousand food baskets for both Thanksgiving and Christmas. There are barrels set up all over the county to donate food. Kimball says pumpkin pie is there biggest need right now. Both banks say frozen turkeys and ham along with gravy are always needed. To find out how you can help and what holiday fundraisers are taking place click here for ATCAA and here for The Resource Connection.