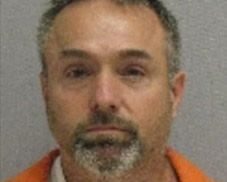 Karl Karlsen

View Photos
San Andreas, CA — Calaveras County Sheriff's officials report the murder case against Karl Karlsen is active. Yesterday, 53-year-old Karl Karlsen pled guilty to second-degree murder in a Seneca County, New York courtroom to killing his son for a $700,000 insurance pay out. Calaveras County investigators are still investigating the death of Christina Karlsen in a house fire in Murphys back in 1991. Karl, her husband at the time, collected $200,000 from a life insurance policy on his wife. The fire had been declared an accident.
Sgt. Chris Hewitt released this statement, "Our detectives have completed the initial cold case investigation into the Karl Karlsen fire investigation of 1991. Due to the short time line in regards to the homicide investigation and prosecution in New York, the sheriff's office's investigation was adopted by the district attorney's office so that it could be partnered more efficiently with New York prosecutors. The Calaveras County DA's Office and its investigators are actively re-investigating the 1991 case and are working diligently to bring it to a close."
We contacted Calaveras County District Attorney's office about this case, but further details are not available.