FEMA Rejects Public Assistance For Rim Fire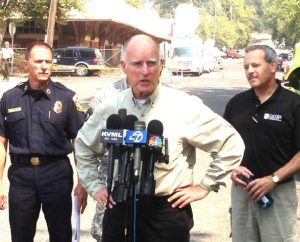 Governor Jerry Brown In Tuolumne During 2013 Rim Fire

View Photos
Sonora, CA — The U.S. Department of Homeland Security's Federal Emergency Management Agency (FEMA) denied a request by California's Governor for a major disaster declaration to help with public assistance due to the Rim Fire. Governor Jerry Brown asked for that assistance in October and specifically requested aid for Tuolumne and Mariposa Counties and Hazard Mitigation statewide. Tuolumne County Board of Supervisors found out about FEMA's rejection at today's meeting.

In a letter to the Governor from Craig Fugate, a FEMA Administrator, it states, "Based on our review of all of the information available, it has been determined that the damage from this event was not of such severity and magnitude as to be beyond the capabilities of the state and affected local governments. Accordingly, we have determined that supplemental federal assistance is not necessary. Therefore, I must inform you that your request for a major disaster declaration is denied."
Brown has 30 days to appeal the decision which the Board was told the Governor plans to do just that.
Click here for an earlier story on FEMA approving a request for a fire management assistance declaration for the Rim Fire. That authorization made federal funding available to reimburse up to 75 percent of the eligible firefighting costs under an approved grant for managing, mitigating and controlling the fire.