Update: Stanislaus Forest Vegetation Fire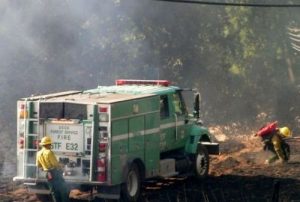 Forest Service Fire Truck

View Photos
Stanislaus National Forest, CA — Stanislaus Forest Service has named the blaze the Meadow Fire. It is one and a half acres on Strawberry Peak off of Forest Road 4N39. The Columbia Air Craft were called off the blaze around 4:15 this afternoon.

"That's a good sign. It is steep terrain, but firefighters are working to put hose and lines around the flames. It's not spreading quickly it slow to moderate spread so they are taking control over the fire," says Veronica Garcia the Forest Spokesperson.
The flames broke out near Forest Road 4N39 just before one this afternoon. No structures area threatened. Garcia says there is no word on containment at this time and crews could be on scene into the night.
Click here for a map of the fire site.