Rim Fire Affected Business In Angels Camp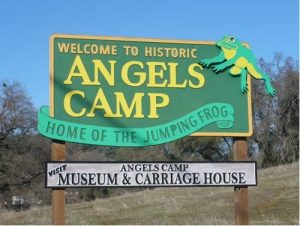 Angels Camp

View Photos
The Rim Fire did not just affect business in Tuolumne County. It also had an impact on Calaveras County and the town of Angels Camp.
Anne Forrest, the Director and past President of the Angels Camp Business Association (ACBA), was Friday's KVML "Newsmaker of the Day".
"Just the smoke alone from the Rim Fire caused us to cancel some events. The fire and more recently the closure of Yosemite National Park has had an effect on our tourism, which affects lodging and the hotels. When we lack tourists, the local restaurants are affected along with our gas stations, grocery stores, etc. " said Forrest. "Thankfully, business is finally beginning to improve."
The ACBA has been around for more than forty years and, according to Forrest, it is similar to a Chamber of Commerce, only on a smaller scale with a concentrated focus on the community.
Forrest said, "We work to unify and organize the business community of Angels Camp in order to promote and facilitate business development, growth and goodwill. Our goal is to build better businesses for a better community."
Membership is open to any company doing business in Angels Camp as well as to individuals. Membership provides opportunities for networking, cross-marketing and promotion.
Monthly workshops have a social half hour and a business education program and are held on the second Monday of each month. These are held at various locations of ACBA members, and are open to prospective members.
ACBA's many activities include Fresh Fridays certified farmers market, Taste also of Calaveras, the Spring Fling and Autumn Harvest sidewalk sales, lighting and landscaping on Historic Main Street, a scholarship fund for Bret Harte High School students, and the annual Christmas Parade, Gala and Open House.
And tomorrow (Saturday) "Gold Rush Day" will close the entire historical area of downtown Angels Camp to vehicle traffic from 11am – 4pm. This was an event that was postponed due to the Rim Fire
This year's event is in celebration of "165 years since the founding of Angels Camp" in 1848.
An anticipated 5,000 people will come to Angels Camp for the day and participate in activities from downtown to Utica Park. Free transportation will be provided from both the Calaveras Fairgrounds (to the south) and Bret Harte High School (to the north).
"The entire day will be a much needed, huge boost for business in Angels Camp" said Forrest.
For more information call (209) 736-1333 or click http://www.angelscampbusiness.com
The "Newsmaker of the Day" is heard every weekday morning on AM 1450 KVML at 6:45, 7:45 and 8:45am.