Three Arrested In Drug Bust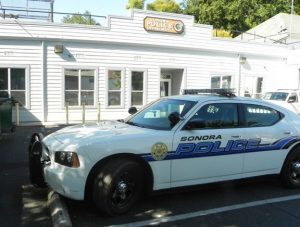 Sonora Police Department

View Photos
Sonora, CA — Receipts, a phone call and drugs led to the arrest of three men. Sonora Police report surveillance cameras at the Wal-Mart parking lot showed 31-year-old Jason Peluso of Sonora picking up sales receipts on the ground earlier this week. Then he went into the store and grabbed items matching those on the receipts. He then tried to return the items for cash.

Officers identified Peluso from the video and got a search warrant for his home. When officers pulled up to the house, Peluso and a second subject, 24-year-old Darryl Tinkle Jr. of Sonora tried to run into the residence, but were stopped. A records check revealed Tinkle had an active felony arrest warrant for bringing a controlled substance into a correctional facility. Also, during the search of the home officers discovered methamphetamine along with receipts and possible stolen property.

While officers were arresting the two men, Tinkle's cell phone rang. An officer answered the phone. Police say on the other end of the phone was 32-year-old Dale Cabral of Tuolumne. He set up a drug buy with the officer at his work. Cabral met with the officer a little while later and was arrested. Police also report Cabral had drugs on him when he was arrested.
Peluso was charged with felony burglary and felony possession of a controlled substance. Tinkle was booked on the felony warrant. Cabral was charged with felony possession of a controlled narcotic and felony attempting to purchase controlled substances.