Rim Fire Cleanup Continues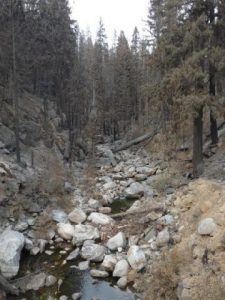 Red Creek At Cottonwood Road Crossings

View Photos
Tuolumne County, CA — The Incident Command reports that the Rim Fire is still 84% contained and nearly 257,000 acres.
Fire crews will continue to make repairs to suppression lines over the coming days and weeks. During the early stages of the Rim Fire there were several suppression lines created, as well as contingency lines. "All of that now is kind of being covered up, and the tracks are being put back, so you won't see all the nasty scars on the country," says Sean Collins, Incident Command Spokesperson. "They are also putting in water bars and drainage lines at various places to ensure that runoff will go into good forested ground."
So far, repairs have been made to 58 miles of dozer line, two miles of hand line, and 17 miles of road. Crews have also completed wood chipping on 52 miles of road. 161 miles of suppression line repairs still need to be completed.
1,406 firefighters are on scene this morning. The Rim Fire has now been transferred from a Type One Incident Management Team to a Type Two. The fire is being overseen by the South Central Sierra Incident Management Team led by David Cooper.