Mark Twain Medical Center's New Technology For ICU Patients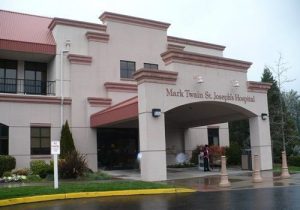 Mark Twain Medical Center

View Photos
San Andreas, CA — Mark Twain Medical Center, with the support of Mercy Telehealth Network, now provides critical medical care to patients through a robot.
The InTouch Health wireless remote robot is five-feet-six-inches tall and has a flat-screen computer monitor "face". Patients and family members can see and interact with a physician, remotely controlling the wireless mobile robots, in real time. A zoom-lens camera and microphone on top of the screen enables the physician to see and hear patients during examinations, read patient charts, see test results and view images.
Joanne Jeffords, MTMC Chief Nursing Officer says, "Unlike any other rural community hospital, our robot provides this technology in our ICU as a part of our standard daily care program including responding to emergencies for stroke patients."
The new robot technology is FDA approved and available at Mark Twain Medical Center and 12 Northern and Central California hospitals in the network. The robots are operated by neurologists and physicians with training in critical care from the Mercy Neurological Institute at Mercy General Hospital in Sacramento and Mercy San Juan Medical Center in Carmichael.
Randy Smart, MD, Medical Director of the intensive care unit at Mark Twain Medical Center, says; "With the support of Dignity Health and the Elliott Family Foundation, we began this journey about two years ago with the planning and implementation in our Emergency Room for a Telestroke program." Dr. Smart says both the Emergency Room and ICU patients will have access to the robot.
Dr. Curtis Allen, Mark Twain Medical Center Family Medical Center Administrative Director, says; "Currently, we are also in the process of expanding TeleHealth into our Family Medical Centers with the support of Dignity Health and the Mark Twain Health Care District." Dr. Allen says, "This advanced technology will provide patients needing specialty care with continued excellent medical attention via the robot, right here in Calaveras County, and they will not have to travel for their appointments to the valley."
Mark Twain Medical Center is a member of Dignity Health one of the fifth largest not-for-profit health care systems in the nation headquartered in San Francisco.