Jamestown DUI/Drivers License Checkpoint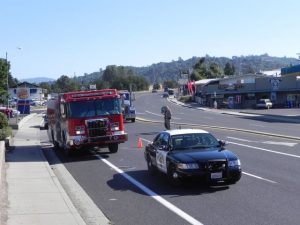 The CHP directs traffic on Mono Way

View Photos
Jamestown, CA — A DUI/Drivers License checkpoint was conducted this weekend between 7:00pm and 2:00am at HWY49 at 5th Avenue in the Jamestown area.
Eight hundred vehicles went through the check point, 480 were screened. Five sobriety tests were performed but there were no arrests. Two other tickets were written for infractions.
According to the National Highway Traffic Safety Administration "Checkpoints have provided the most effective documented results of any of the DUI enforcement strategies, while also yielding considerable cost savings of $6 for every $1 spent." Christopher J. Murphy, Director of the Office of Traffic Safety says "DUI Checkpoints have been an essential part of the phenomenal reduction in DUI deaths that we witnessed since 2006 in California." He adds, "Since the tragedy of DUI accounts for nearly one third of traffic fatalities, the Sonora Area needs the high visibility enforcement and public awareness that checkpoints provide."
Funding for the checkpoint was provided to the CHP by a grant from the California Office of Traffic Safety, through the National Highway Traffic Safety Administration.