Paving Closes Eastbound HWY108/49 Temporarily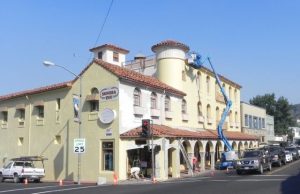 Sonora Inn Painting

View Photos
Sonora, CA – Several construction projects created more traffic in the Sonora and Jamestown area this morning. As reported previously, Caltrans closed a stretch of Highway 108 today during the morning commute. Crews are scheduled to open the eastbound lane of the Highway108/49 from the beginning of the Sonora Bypass to before the Woods Creek Bridge at 1:30pm.
Motorists should expect at least 5 minute delays. Caltrans says a signed detour is in place giving alternate routes for motorists to take.
Click here for a map of the road work area.
The Sonora Inn is also being painted which has closed the shoulder at Washington street and Stockton Road. It is in the area of the detour from the other project. The painters have made good progress and the front desk clerk believes they may finish painting today. The Caltrans permit for the work says the work can continue through 6:00pm tonight and from 6:00am to 6:00pm Monday thru Friday next week.
There are two other projects causing delays on HWY 49 if you are going between Angels Camp and Sonora read "HWY 49 Delays" here.