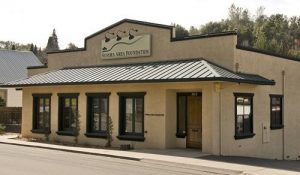 Sonora Area Foundation

View Photos
Jamestown, CA — The Sonora Area Foundation handed out a check to help animals impacted by the Rim Fire. Today they presented the Tuolumne County Humane Society with a $4,200 grant to help pay for staff overtime and supplies for the animals displaced by the fire. Nearly 30 dogs and cats stayed at the shelter due to evacuations notices. The grant is part of the Foundations current donation drive to raise money for fire relief grants to non-profit and government organizations impacted by the Rim Fire.
"We are pleased by the donations that we have received so far, not just from Tuolumne County but from all over California," reports Ed Wyllie, Executive Director of the Sonora Area Foundation. "Because we do not charge administrative fees, one hundred percent of the donations received at the Foundation will be granted to help recovery efforts from the Rim Fire."
The Foundation has already given $5,000 each to Catholic Charities and the Amador-Tuolumne Community Action (ATCAA), and a $2,500 grant to the local chapter of the American Red Cross during the height of the Rim Fire. Another $500 grant was made to Interfaith through the Marjorie L. Coffill Charitable Fund, a donor advised fund of the Foundation.
You can donate on the Foundation's website just go to the Local Emergency Services Support Fund. Donation can also be made by check to the Sonora Area Foundation. Please put "Rim Fire Recovery" on the memo line. You can mail or drop checks off at the office on 362 S. Stewart Street, Sonora, CA 95370.