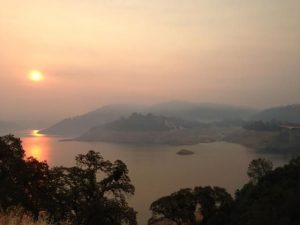 Calaveras Tuolumne Smoke

View Photos
The Tuolumne County Air Pollution Control District has issued an Air Quality Alert in Tuolumne County including portions of Yosemite National Park due to smoke impacts from the Rim Fire.

Dr. Todd Stolp, Tuolumne County Public Health Officer, was Wednesday's KVML "Newsmaker of the Day."
Tuolumne County Public Schools are closed for the week and most local communities continue to be impacted by the smoke.
Exposure to particle pollution can cause serious health problems, aggravate lung disease, cause asthma attacks and acute bronchitis and increase risk of respiratory infections.
Residents are advised to use caution as conditions warrant. People with heart or lung diseases should follow their doctors advice for dealing with episodes of unhealthy air quality.
Older adults and children should avoid prolonged exposure, strenuous activities or heavy exertion as conditions dictate.
The following guidelines can help to prevent breathing problems during times when air quality is poor due to wildfires:
1) Individuals with long term health conditions like asthma, lung or heart disease should make sure that they have a supply of medications on hand and are following their caregivers instructions.
2) Elderly and very young children should limit their outdoor activities when local air quality is "unhealthy for sensitive groups" (visibility less than 5 miles).
3) Signs that the smoke may be bothering you include coughing, scratchy throat, irritated sinuses, shortness of breath, stinging eyes or runny nose. Sometimes symptoms may even include chest pain or headaches. Consult your caregiver for worsening symptoms.
4) If you are advised to stay indoors, keep indoor air as clean as possible. Keep windows and doors closed unless it is extremely hot outside. Run an air conditioner if you have one, but keep the fresh-air intake closed and the filter clean to prevent outdoor smoke from getting inside. If you do not have an air conditioner and it is too warm to stay inside with the windows closed, seek shelter elsewhere.
5) Consider a high-efficiency particulate air (HEPA) filter to reduce breathing problems. Room air cleaners, which utilize a HEPA filter, may reduce the number of irritating fine particles in indoor air.
6) Do not add to indoor pollution. Do not smoke because smoking puts even more pollution into the air.
The "Newsmaker of the Day" is heard every weekday morning on AM 1450 KVML at 6:45, 7:45 and 8:45am.