Brown Offers Support To Tuolumne Responders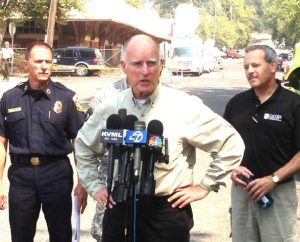 Governor Jerry Brown In Tuolumne During 2013 Rim Fire

View Photos
Tuolumne, CA — Governor Jerry Brown made a stop in Tuolumne City today to speak about the Rim Fire, and express thanks to local, state and federal emergency responders.
Brown was joined by the head of CAL Fire, Ken Pimlott, who said that firefighters "continue to make good progress." He noted that there are now 3,700 personnel on scene.
Brown praised the work of the local, state and federal responders, and said he was pleased to see the containment number up to 15%. He said President Obama called him yesterday to see if additional help was needed from the federal government.
"I think we have what we need, but every day we take a look at it," said Brown. "I certainly won't hesitate to call President Obama if I think we need more than we have."
Governor Brown also stated, "This is something we have to live with, and it may get worse in the years to come. But California will be ready for it, whatever it takes.
Brown and Pimlott spoke for less than 10 minutes and then quickly thanked the firefighters staged at Tuolumne Park, and had brief words with all five of the Tuolumne County Supervisors.